I read
this post
that Danielle wrote earlier this week and it got me thinking about blogging and how we portray ourselves.
I am no stranger to comparing myself to others. I did it long before blogs and I'm sure I'll do it for the rest of my life. Blogs are interesting because they allow us to put out only what we want, which usually ends up making ourselves look good. That's not a comment on anyone in particular--I think it's human nature to only show our best selves, especially when you're facing so much potential criticism from the Internet. Sadly this usually means that we end up comparing ourselves fruitlessly to a mirage, and as we all know, if we compare ourselves to perfection we will always fall short.
I'm learning more and more to not compare myself to anyone, because no one is perfect and I can only live life in the way that seems the most logical to me.
I like to think that my blog is pretty honest. I'm pretty sure that if any of you met me in real life--as some of you have, and you can correct me if I'm wrong--you'd see that I'm pretty much the exact same person I portray on my blog. I try not to hide my proud moments and my not-so-proud moments because my favorite blogs to read are the honest ones--the ones that remind me that we're all people, that we all have problems, and that it is our struggles that help define our lives.
That said, I decided to share some
true honesty
with you today, just to snap you back into reality if you had any delusions of my perfection (I have no delusions about this and assume you do not, but still, this will be fun, I promise).
---------------
1. Rob and I hate folding laundry and haven't folded a load in probably around 4 months. We get our clothes from here more frequently than our own dressers:
2. Rob and I are often too lazy to actually change a roll of toilet paper, so we end up sort of propping the new roll on top of the spent roll and call it good.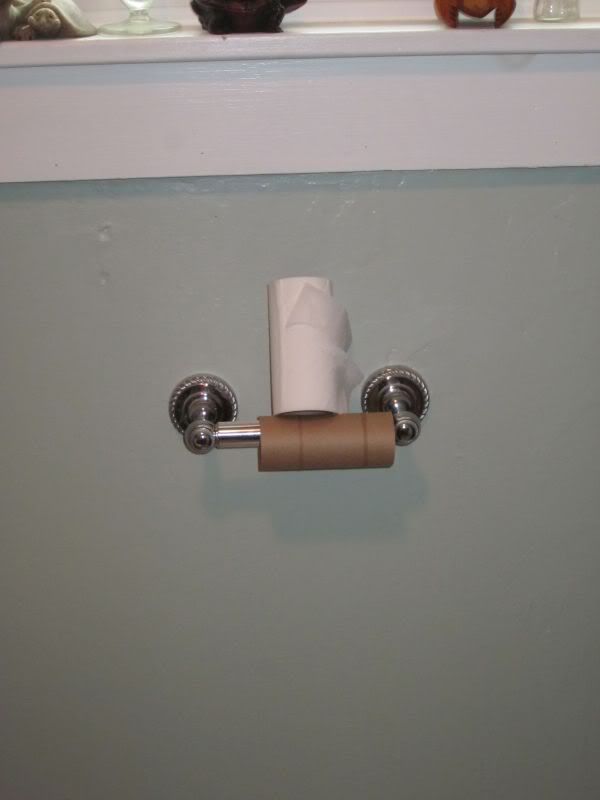 3. This is seriously what our bedroom looks like right now. Note that my dog has more beds than I do.
4. Remember the rug I so provocatively posed with in
this post
? Yeah, it's still there.
6. My muffin top is all that, whole-grain, low-fat.
So there you go - total, unflinching honesty from yours truly.
This has to make it easier for the rest of you. Just the pictures alone make me anxious.