If you remember, when I was in Arizona I met up with Michelle and Chad a few times for dinner and had an absolute blast. I had read Michelle's
blog
for a few months and I was so excited to meet her, Chad, and their lovely little beastie Bodhi. They really are lovely people (and doggy) and I hope that we will meet again soon when Rob and I (hopefully) move to the Southwest (more on that hopefully later!).
Michelle and Chad run their own Etsy shop,
Funk Off!
, that makes
all-natural, vegan, cruelty-free
and
gluten-free
soaps, lotions, body sprays, lip balms, and tattoo creams. They were kind enough to let me try some of their items so I could review them here, and then offer a giveaway to my amazing readers!
Here are the items I received from them (thank you so much, guys!) and my thoughts!
The Reviews!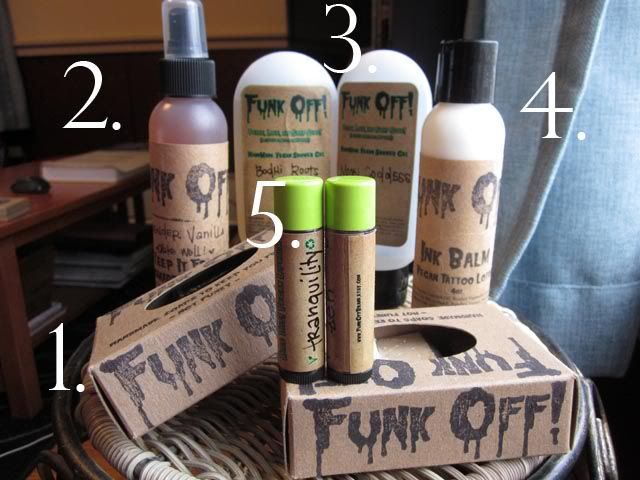 1. Soap Samples: I got two little boxes with four soap samples each. First of all, the scents are to die for. My favorite scent was probably sap moss bonsai hemp, but I loved all of them. One thing that amazed me was how quickly and easily they lathered up (weird sentence). I have an issue with soaps and having to use a ton of it to get a sufficient amount of lather, but this was absolutely not an issue with these. I loved them!
2.
Body Spray (Lavender Vanilla)
. I'm not usually much of a body spray/perfume fan on account of a very sensitive nose, but I loved this lavender vanilla scent. I tried this out one day and it wasn't as overbearing as many body sprays I've tried, which is always a plus in my book! The scent was subtle and lovely.
3.
Body Wash (Bodhi Roots
and
Moon Goddess).
These were some of my favorite products to try. Both scents are
amazing
, lovely and warm (I suck at describing scents, can you tell?) without being too feminine. Rob liked both scents as well, which is yet another plus! I will reiterate how impressed I was with how easily they lather - the packaging said that a little goes a long way and it was right. See that Moon Goddess bottle on the right? I've been using that since I was in Arizona and it's still going!
4.
Ink Balm Tattoo Lotion
. If you go to Chad and Michelle's shop you will see rave reviews for their ink balm and boy, are they right! One of my tattoos was relatively new when I was in Arizona and it was cracking like mad because of the dry air. The Funk Off balm moisturized my tattoo better than the expensive Aveeno stuff I bought before coming to Arizona. This was one of my favorite products!
5.
Lip Balm (Zen
and
Tranquility)
. Once again, the scents are amazing. I used this lip balm in Arizona and it definitely helped keep my lips moisturized in the dry air, and gave my lips a nice gloss. While I did love them, I think I do need a little bit more moisture in my lip balm because I am terrible with my lips (I pick them constantly). I have and continue to use them in conjunction with my normal chapstick!
As you can see, Chad and Michelle make some pretty awesome stuff.
The Giveaway!
Chad and Michelle are giving away
a soap and a lotion
of the winner's choice from
their Etsy shop
! That's right, any scent you'd like!
To enter,
you first must be a follower of this blog. Then just visit
Chad and Michelle's shop
and leave me a comment telling me what soap and lotion you'd select. Make sure to leave your email address!
For additional entries (leave a separate comment for each):
1. Follow Chad and Michelle (
@FreshNotFunky
) on Twitter.
2. Follow me on Twitter! (
@ElectricCaitlin
)
3. Tweet about this giveaway! Make sure to include
@ElectricCaitlin
and
@FreshNotFunky
!
I will draw a winner at random on Monday, December 5th! Good luck!
And if you aren't patient enough to wait, visit Chad and Michelle's shop and buy something now! Their products are very affordable
and
you'll be supporting a small business! Happy Holidays!