I hate to admit it, but I've kind of been enjoying these outfit posts.
The below dress I bought from
Chloe Loves Charlie
a few months ago. When it came I was super excited because it's
super cute
but unfortunately it was a wee bit short, and I have stubby legs.
So I ended up buying some lacy black bicycle shorts from American Apparel to make it into this little ensemble: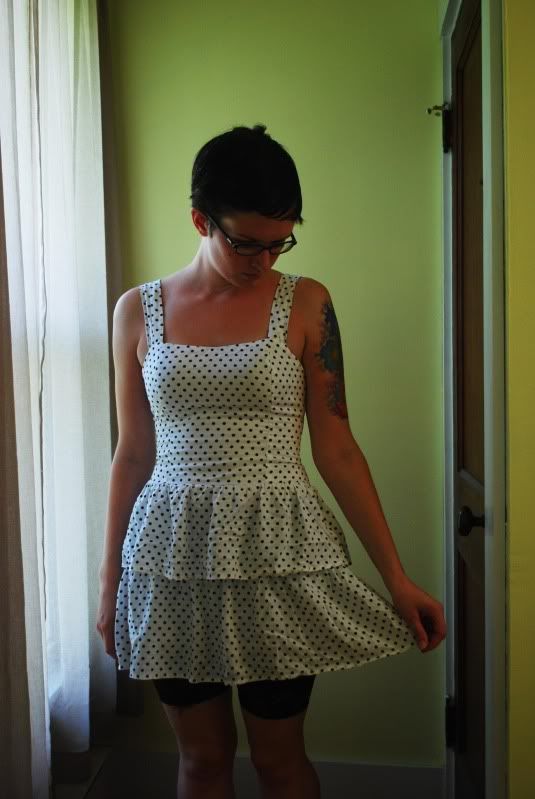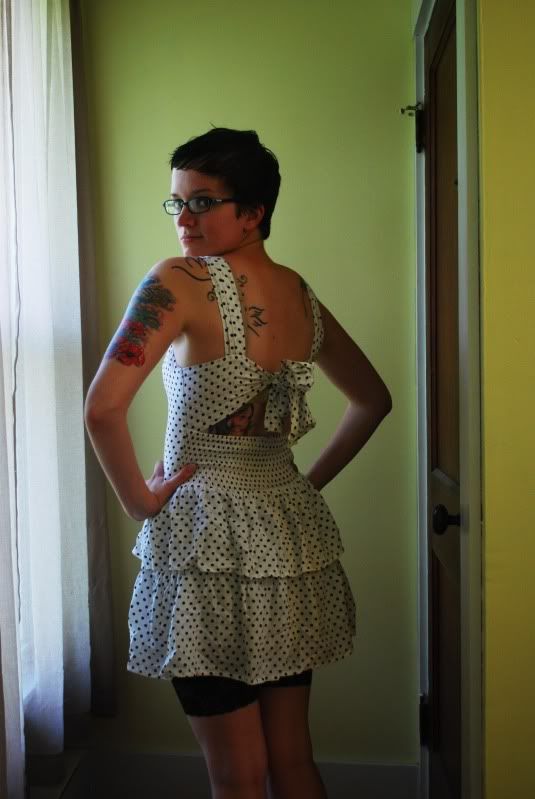 Yes, those are Chuck Taylors that I am rocking with this outfit. Every time I buy a dress I ask Rob what shoes I should wear with it and he without fail says "Chuck Taylors." He thinks, perhaps correctly, that they are the most versatile shoes ever. I could also wear some cute ballet flats with it, but don't tell him I said that.
Want to guess why I changed out of my ubiquitous pajama pants and donned this outfit? Maybe lunch with a friend? An impromptu shopping trip? A trip to Hannaford to pick up my Nuvaring prescription and some deodorant?
I'll leave you to figure out which of those is correct. Sexy and awesome and oversharing, thy names are Caitlin.
Anyway here are some bits and pieces from this week:
1. I found out this week that I will be in Arizona for the entire month of October. As in, no coming home. Rob and I haven't been apart for this long since the Army, so I am developing some anxiety about this. However, I've decided that contrary to other projects, I am going to make the absolute best of this time in Arizona. I've already made plans with
this girl
,
this girl
, and
this girl
, and I'm determined to not stay inside my room and mope all month long. I'm planning to make a whole blog feature about it, describing all the fun things I do in Arizona and posting a ton of pictures. Anyone have any ideas of things to do while I'm in Arizona?
2. So Hurricane Irene hit, and if you haven't noticed it really wasn't that big of a damn deal here in Maine. The wedding I photographed went off without a hitch and I was able to successfully get home at the end. This particular experience showed me the point to which I tend to "awfulize" upcoming stressful situations and how they always end up not being all that bad. I woke up the morning of the wedding sobbing from anxiety. I plan on writing a post about this later this week or next week.
3. Has anyone see the show Mystery Science Theater 3000? This is one of my and Rob's favorite shows and we're watching it now. Just thought I'd ask because if you haven't seen it, you should.
4. I was surprised to find that more people stared at and commented on my tattoos in Daytona Beach and Boston than anyone ever has in my tiny Western Maine town. I wonder why that is.
5. Guess whose husband is about to start his last year of college? So proud of him and excited to start this next chapter.
6. I'm thinking of vlogging. Anyone have the slightest interest in seeing this?
7.
Don't forget about the Flourish bracelet giveaway! You have until Friday!
This was a random post. For those of you who made it through it, 3000 blog points and my eternal devotion.
Have a lovely week!