I hope you all had a positively magical weekend! Here's a few bits and pieces from the last few days.
1. First of all, thank you
a million times
for all of your comments on my Honesty post - I was overwhelmed by the response! I'm considering making it a semi-regular feature here and giving the opportunity for others to link up...not weekly per se, but every so often just sharing some honesty in the same vein as the post and seeing others' posts! Be honest, would that be totally lame and self-serving?
2. On Saturday I took my friend Amie to add to her tattoo as a birthday gift. It's a combination of her and her sisters' zodiac signs and, as always,
Adam
did a fabulous job. Rob has originally planned to get a Sailor Jerry-style swallow, but while waiting for Amie he perused a tattoo magazine and randomly found a design he liked better. He said that it reminded him of me :) Not only is it his first color, it's the first he's done below his elbow.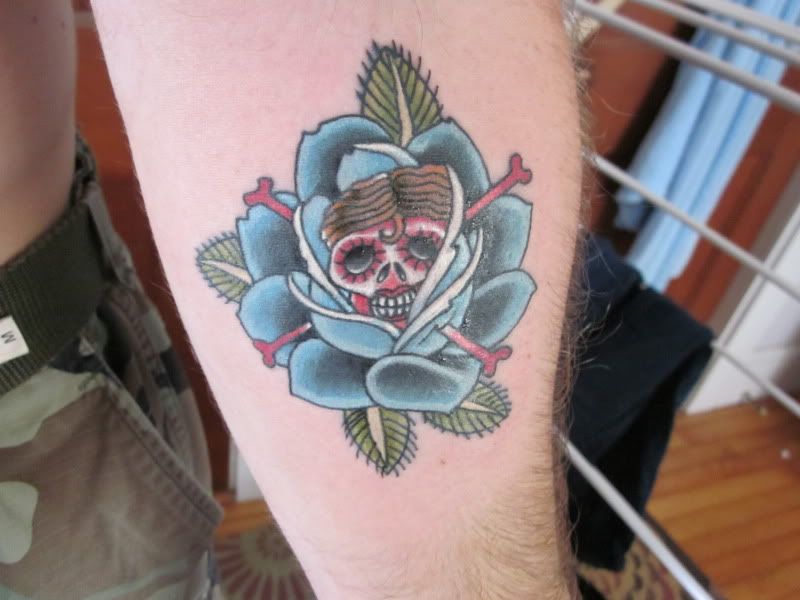 3. Today Amie and I went to Hallowell, Maine to have lunch and such. I bought a $129 winter jacket for $80, thanks to a friend of ours who works at Gap. Win! Hallowell is a lovely little town, very much quintessential New England. We ate a delish gluten-free lunch (with martinis and mimosas, of course), had lots of girl talk, and checked out some of the local antique and craft shops. I found a vintage Pyrex piece and having been inspired by the lovely
Sarah
I bought it, and for only $12! Overall a wonderful day spent with a lovely friend.
4. I've been feeling quite stressed lately and I'm not totally sure why. I'm not sure if it's because I'm through with work and life is pretty calm, or what. I find myself dreading something but can't quite put my finger on what it is. Has anyone else ever felt that? It's making my head ache.
5. Is anyone else excited for Thanksgiving and Christmas? I watched the 30 Rock Christmas episode from a few years ago the other day and just about peed myself.
6. Rob and I are legit watching "Aladdin" right now.
7. I am legit considering a 30 Rock tattoo.
Have a great Sunday, all!