I am so excited to share this feature! I contacted Lindsay of
Scenic Glory
a month or so ago to share the story of my half-sleeve. Head on over there and read about it if you're interested! And while you're at it make sure to follow Lindsay, her blog is just lovely and is one of my daily reads!
On a side note I am sponsoring Lindsay for the month of June. I am also sponsoring these lovely ladies: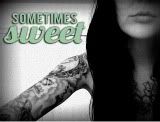 So make sure to check them out as well! Have a lovely mid-week, everyone!