You all likely remember my
Things That Make Me Jealous
post because yeah, I'm memorable. If you missed it basically I explained in my own crotchety way those little things that make me feel jealous.
This time for your benefit I've decided in this post to be a Positive Polly (the frilly, glittery sister of Negative Nancy...totally a thing, don't worry about it) and share with you some things that have been making me happy.
1. Rob coming home from work. He's always so excited to see the dog me and is extremely thankful to have dinner on the table or at least close to it. Plus I've taken to making our bed every day and he loves it.
2. Sleeping in a newly-made bed. Even if the sheets aren't freshly cleaned it still feels more comfortable somehow.
3. So many MST3K episodes in my possession to watch during the day. When Rob was home he'd watch hours and hours of Kitchen Nightmares--which is apparently on all day on every channel from 12pm to around 3pm--then Ellen and The Doctors. These shows bore the shit out of me so I've just been falling back on all the old MST3K episodes I used to watch in college.


4. Rob doing an assload of dishes before he leaves for work so I don't have to do all of them by myself.
5. Walking Cypress during the day. Frankly this has become a source of stress ever since we got caught between two fucking coyotes calling to one another, but I haven't seen one yet so I'm slowly relaxing. I keep imagining in my head that Cypress will meet and fall in love with one and I'll have to cruelly pull them apart because he's from the wrong side of the tracks and we don't mix with his kind. Then I don't know, Cypress will learn some crazy dance number and sing to the stars through her locked window and I'll have a change of heart and welcome the coyote into our family.** No, I haven't been stuck at home by myself for too long.
6. Needing to wear sunscreen outside because it's so damn sunny and warm in April you guys!
7. My husband's hot ass in his work uniform, and how focused he is on looking his best when he goes to work. He's wearing hand-me-down pants now while he waits for his order to come through, and it drives him nuts how stained they are. This is the man who wears cut-off BDU shorts that are quite literally falling apart and the same white t-shirt every single day of the week by the way.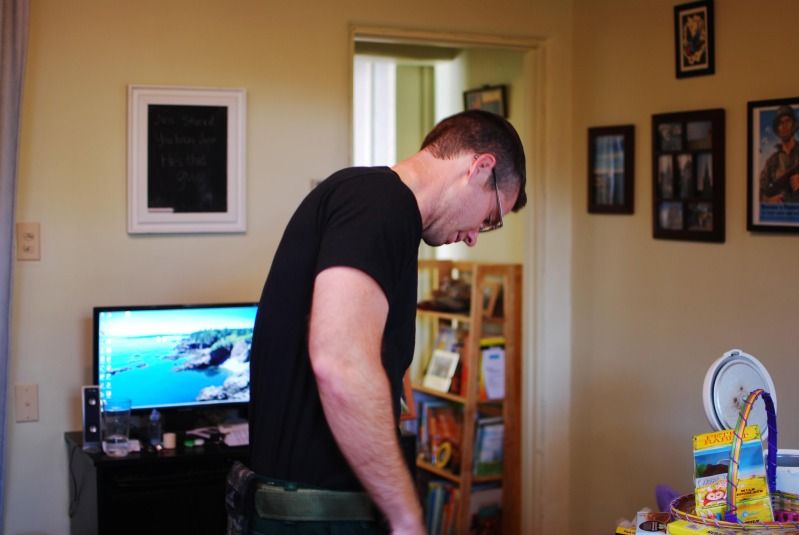 What is making you happy today?

**After I wrote this Cypress actually had a run-in with the coyotes, which involved her running angrily at them and them running away in fear. One of them followed her and Rob, not aggressively but just with curiosity. Robbie had to throw a rock in its general direction to deter it from following humans, but I'm still imagining the coyote to actually be secretly in love with Cypress, who initially seems disinterested but really is turned on by his bad boy ways. Kind of a Julia Stiles/Heath Ledger from "10 Things I Hate About You" kind of a thing.