Happy Sunday all!
Since our weekend is technically Friday and Saturday due to Rob's work schedule, I figured I'd share it with you now, on Sunday. Really anything interesting that happens to us only happens when Rob's here; when I'm alone basically it can be summed up with "bed, sleep, nap, candy, food, dog-walk, TV." Doesn't make for gripping blog content, so you're welcome for sparing you.
On Friday I still had to work but Rob handled the dog-walking for me which was nice. We ate a late lunch of parmesan-crusted mozzarella and pesto grilled cheese sammiches which were amazing. We'll definitely be making these again soon.
On Saturday we hung around the house and watched the Bruins, who lost in double overtime. I also started a new book* called
Nicholas and Alexandra
, because I am a straight-up geek for Russian culture and history and for nonfiction books. The book is pretty good so far, very interestingly written particularly for nonfiction.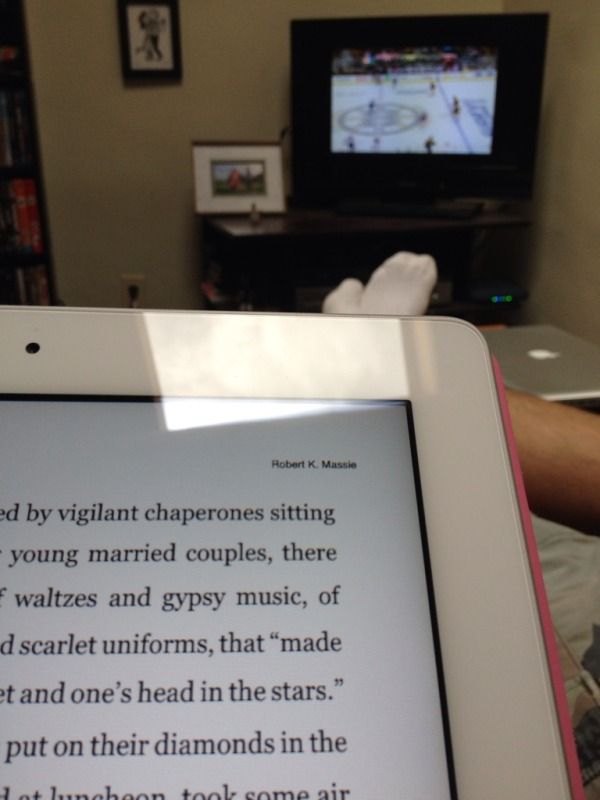 Rob also got his first paycheck, making us officially a two-income household. I'm so excited about this new development since I'll have help paying our bills and rent, and we'll be able to do fun things more often, like spontaneous tattoos and date nights. On Saturday night to celebrate his slightly increased checking account he took me out for Indian food and I drank the absolute shit out of some mango lassi.
When we checked the mail I noticed that my latest purchase from Amazon arrived! After a couple of drinks (yeah, yeah) I decided that it was really sad that we didn't have the original Star Wars trilogy (in this home we don't recognize the prequels). I found a good deal so I went for it.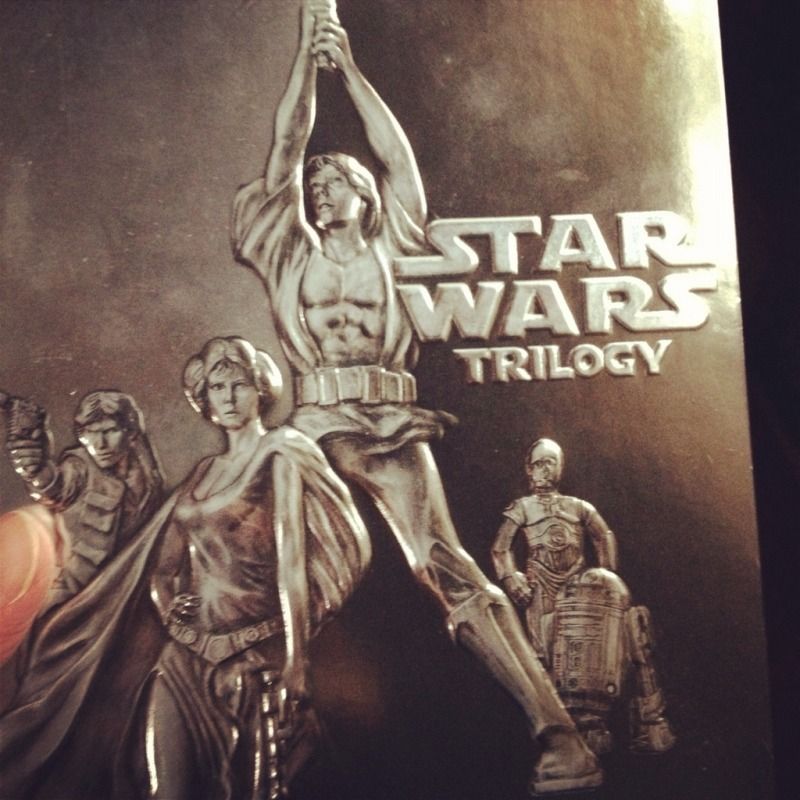 That night we did our normal Saturday ritual, which involves the show "Celebrity Ghost Stories," and later SNL. Has anyone else seen Celebrity Ghost Stories, on the Biography channel? Basically celebrities tell real-life paranormal experiences from their own lives and it is so intense. This one story was from a writer from "The Man Show" was wicked crazy, and the guy was seriously super emotional about it. I don't know how I feel about paranormal experiences in general--having never had one--but these stories are so convincing it's scary.
Other than that things have been pretty quiet around here. As of this coming Wednesday Rob can get called out on fires, so I assume I'll be spending a lot more time online and drinking martinis alone. Because I'm classy, not pathetic, I assure you.
Well now, that was a bit of a pointless post now, wasn't it? Regardless, I hope you all had a great weekend full of love, happiness, happy loveliness, Indian food, tulips, and, I don't know, candy or some shit.
*I finished "Kasher in the Rye," by the way, and it was an excellent book. At once humorous and heart-breaking, I was found myself both laughing and crying throughout the entire thing. Definitely a wonderful story of redemption and growth. I just hope it's true, unlike "A Million Little Pieces."