What a long, obnoxious title.
So for awhile I've been like, I really like posts with
tips
. I want to do one of those. Problem is, there is little I know how to do well and those things I can do well (pet my dog, fly in planes, sit in a chair and watch TV, take the garbage out) aren't all that groundbreaking, and something that a whole lot of people can do far better than I.
The one thing people ever come to me for in terms of advice is relationships, which doesn't always make a ton of sense to me because I've only ever been in one, but regardless it keeps happening. Specifically people ask about having a boyfriend/husband living far away, maybe in the military or maybe just frolicking in fields of gold, since as most of you know
our love story heavily involves a four-year separation and one Iraq deployment
.
Sometimes I am of the mind that all couples should spend some time apart, if only because it teaches you more about yourself and more about your significant other than a lot of other experiences you go through as a couple (though certainly not all). Also, I think that with a few exceptions, most of the tenets below absolutely could (and should) be applied to really any relationship.
Is it just me or do I always give really long intros to things? Let's just move forward with this.
Tips for Love, Long-Distance
1.
Communicate
. Let me
communicate
that some more: communicate, communicate, communicate. I had people tell me when Rob was gone that I shouldn't burden him with my own issues, which was good advice to some extent. But in general, I am of the mind you should be telling each other how you're feeling, what you think needs more work, and things that have upset you. Something I did sometimes which I do not advise, however, was to use that line communication to make Rob the
object
of my feelings and ended up playing the blame game because I felt hurt. I'm lucky that Rob understood me well enough that he stayed with me, but we could've avoided a lot of unnecessary fights and crying if I had made it less about me and more about
us
. All that aside, I think that Rob and I have always been very good communicators with each other and I think this has been one of the foundational elements of our relationship.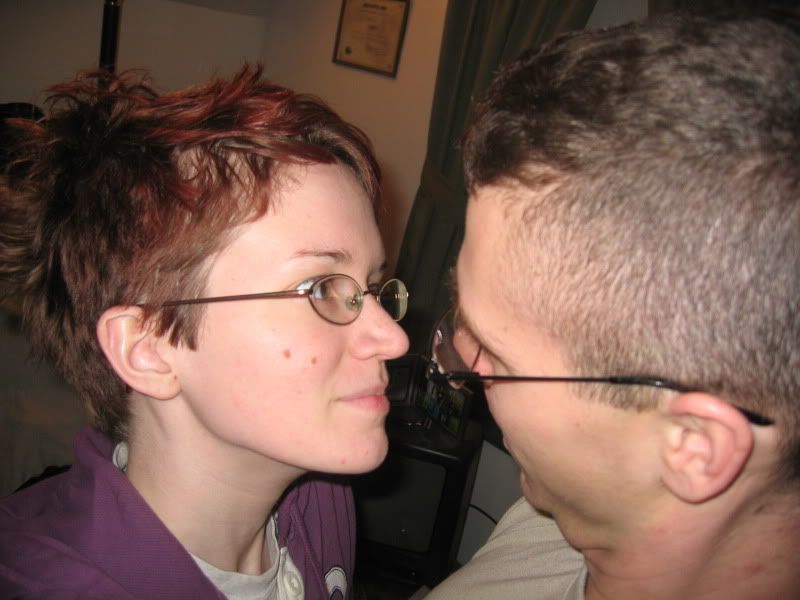 Rare visual evidence of us communicating. Also: 1) amazing hair, Caitlin and B) I'm wearing that sweatshirt right now!
2. Stay busy and stay true to yourself. This was pretty key. One of my greatest regrets about our time apart is that I didn't do more of my "own" thing. I holed myself up in my room and watched the same television shows over and over again, promised to go to meetings and events and backed out, and kind of forgot some of my friends. I did the same thing in Russia, and that totally sucks. Part of it was that there wasn't a ton to do outside of drinking, another part of it was that I didn't find many friends who could or wanted to understand what I was going through, and a lot of it was just my own issues. It's so easy to assume that there's nothing outside of your little bubble and your phone, but I promise that you'll feel better if you build a strong base of friends and activities to engage in, and maybe a hobby you can do to keep yourself busy when you're sad or stressed. Step outside of your comfort zone and always remember that you are a unique person outside of your relationship, no matter how awesome that relationship is.

3. Write letters. I can't tell you how many times after a fight, or just whenever honestly, that I'd write a letter to Rob outlining everything I felt. I know it's strange, but it felt like I was "talking" to Rob when I wrote though he may not read the letter for weeks (or never, since I often forgot to send them). When I was in Russia I couldn't send any letters at all, so I just wrote a cumulative book of letters in a notebook I bought. Makes for a neat journal of my time there and a neat testament of our love.

4. Sometimes it's okay to go to bed angry. Generally I preferred not to end the night in tears or anger, mostly for fear that Rob wouldn't be alive when I woke up and I would hate myself. What I should say instead--though it's not as snappy of a line--is that it's okay to step away from a conversation if it isn't going anywhere or is only going in a bad direction (which will inevitably happen). There were many times that Rob and I would go around and around and around, never actually accomplishing anything or communicating. I generally would avoid hanging up on your significant other (I did this far too often) but am fully supportive of a calm, "I can't have this conversation right now. I love you." Give yourself some time to put things into perspective and when you are ready (this is key) call back and talk it through.

5. Choose friends wisely. When your significant other is far away you'll learn a lot about your friends (I found this to be especially true in a military situation). Someone is going to whine to you about their boyfriend being gone for two weeks and it'll be obnoxious. Your best friend might shy away from you a bit. Be easy on them--it's hard for people to understand the ups and downs of long distance or understand how their careless words may affect you. Along the same lines, just as in normal life, if you find someone to be toxic do not hesitate to get them out of your life. I had a "friend" in college say to me, "I don't know how you could date a soldier," and another implied that my husband was probably killing innocent civilians. These people were not worth my time and I'm glad I realized it.

I hope these tips are somewhat helpful to you whether you are loving someone long-distance or short-distance.