This was one of our last calm, non-packing weekends and it was a lovely one.
1. We saw "War Horse" tonight and all in all, it was a pretty good movie. I was in tears most of the time, though, because war scenes + animals in pain = fragile Caitlin. Can I tell you something weird? When I watch war movies, whether it be the Civil War or Vietnam, I think about how our lives would've been different if Rob had fought in one of those wars instead of Operation Iraqi Freedom. And sometimes I wonder if in some other time, in some other place, we were together in some way and he did fight in one of those wars. I know that sounds crazy and yes, I totally stole it from an X-Files episode, but regardless the thought always causes me to well up in tears.
2. Does anyone else eat plain fresh mozzarella as a snack? I could eat cheese all night and all day, and that is simply fact.
3. Isn't my dog just so
fancy?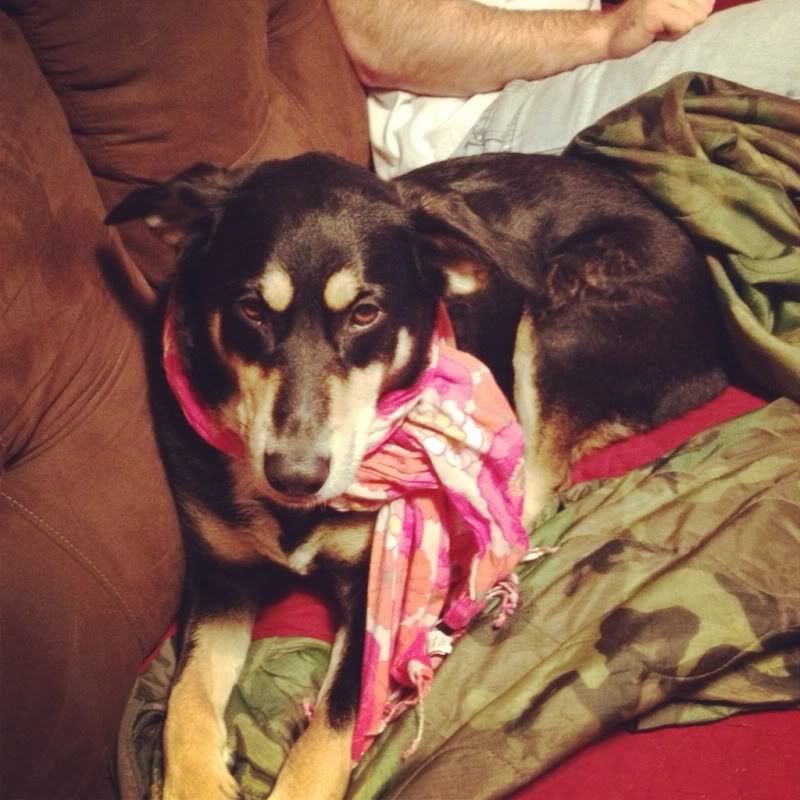 4. I just finished the 3rd book of "The Hunger Games" series and I must say, it's a great read. It surprised me, but I really did enjoy reading it and quite frankly couldn't put it down. I think what I liked about the ending--without giving anything away--is that the emotions and actions of everyone involved were very realistic. Instead of everyone just frolicking on their merry way I think the toll of war/stress etc. seemed pretty believable. I don't want to give away anything else but if you like dystopian fiction, you should definitely read it. My next book is "The Poisoner's Handbook" all about murder by poison in Jazz Age New York. Morbid? Probably. Warning: Reading any of the book I have below might give a little bit away if you plan on reading it.
What did you do this weekend?