I'm going to go ahead and say it: I get stressed out about going to the gym and, in a broader sense, exercising.
There are several reasons for this.
I think part of my hatred of exercising is the fact that when I am not instantly good at something, I give up on it and throw my hands up in frustration. I've always been
obnoxiously
very competitive so I tend to lash out--either at myself or at others--if I'm not succeeding
and excelling
at whatever I am trying to do, be it exercising or learning a new language.
The other problem I have is that I'm so afraid that if I'm not good at exercising I am ipso facto a weak and certainly lazy person. I also get bogged down in the fear that Rob will fall out of love with me if I don't take care of myself physically, or that he will find someone (like
this girl
or
this girl
, both of whom he finds attractive) who shares his love of exercising and will leave me. Not particularly fair but I guess it goes without saying in my crazy brain. This cycle of thinking leads me to the inevitable "why bother?" attitude which just makes me even angrier at myself and even
less likely
to go to the gym or go running.
And the center of the shrubbery maze that is my dysfunction is that I am excellent at absolutely mind-f*cking myself (if you'll pardon the phrase). I am one of the only people I know who does better mentally while running on a treadmill rather than running outside. If I am running an actual distance and know how much further I have, I get tired instantly and can convince myself to stop or slow down. I finally figured out that if I run on the treadmill, blast music at a volume far higher than normal and cover up the amount of time that's gone by I do much better. How bizarre is that?
You know the other thing that works with me, shockingly enough? Guilt and shame. Today I was feeling ashamed of myself for wanting an iPhone even though I just got a new phone a year ago (in my defense, the current phone is close to malfunctioning and won't let me download any apps) so I decided as "punishment" I'd force myself to go out into the cold, drive to the gym, and run a 9-minute mile. I did it (admittedly slowing down for about 5-6 seconds) and I felt proud and sweaty, but I imagine I'll have the same battle to fight tomorrow.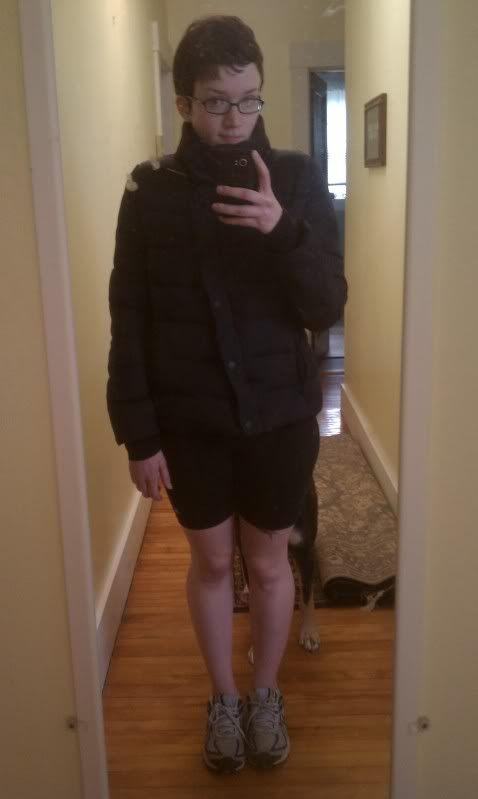 I want to be good at going to the gym, I want to love running. I want to get healthy so that my body pays me in kind when I get old. There's just some constant mental block that I am having a damn hard time overcoming. I get pissy and frustrated when I can't run more than a mile without feeling like my heart is going to explode, and if I stand in one place too long (like when I am working with free weights) I get bored and annoyed. Rob, on the other hand, loves the gym and loves exercising. I think if he couldn't exercise he'd quite literally go insane. It's his release and how he gets out any nervous or uptight energy. I get that. I just wish it held true for me.
I guess my hatred of the gym and exercising is (surprise!) an extension of the hatred I have for myself and for my body. I doubt I'm alone in any of these aspects, but sometimes I sort of wish the hatred would magically transform itself into a never-ending well of motivation to do better, to work out harder, rather than to give up and go home and read blogs.

I'm sorry there isn't much coherence to this post. This has just been on my mind for awhile--since I bought a very expensive membership to our gym--and I kind of wanted to get it out there. Kudos if you made it through my word vomit!
How do you get motivated to exercise?