While Rob and I are on vacation in Florida I thought I'd share some awesome blog writers with you. This is my first guest post extravaganza so I hope you enjoy! Today's post is from Sandi from Adalou Vintage. Sandi is one awesome, talented lady, and I love her blog, which is jam-packed with her awesome collections, lovely vintage things, inspiration, and her life with her family. She's sharing a delicious-looking recipe today, so enjoy!
Hi friends, this is Sandi from over at the
AdaLou
blog and I'm honored to be popping in today to guest post while Cailtin enjoys some time away. For those of you who don't know me, I blog about my love for vintage, art, everyday inspiration, and general life. Among everyday life, which is kinda a broad topic, we (my mister and I) enjoy baking tasty treats for the family and then sharing this yumminess with all of you. Well, today I wanted to share some delicious Pumpkin Donuts Muffins, which were highly enjoyed by all of us especially the kiddos. Thanks again Caitlin for letting me share this recipe.
Enjoy!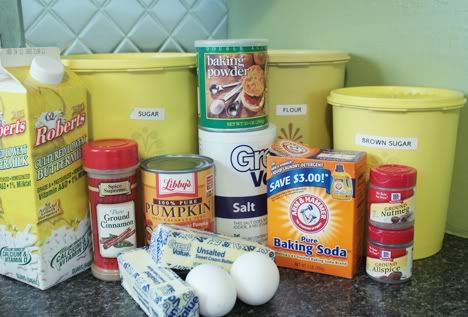 PUMPKIN DONUT MUFFINS
Makes 12 // Total Time 1 Hour 20 Minutes
for the muffin:
10 Tablespoons (1 1/4 sticks) of unsalted, room temp, Butter
3 cups of All Purpose Flour (**Gluten Free friends, substitute mixture below)
2 1/2 teaspoons baking powder
1/4 teaspoon baking soda
1 teaspoon coarse salt
1/2 teaspoon ground nutmeg
1/4 teaspoon ground all spice
1/3 cup buttermilk
1/ 1/4 cup pure pumpkin puree (from 15 oz can)
3/4 cup light brown sugar 2 large eggs
**Gluten Free flour this would work well, if not this
recipe
is actually quite tasty for a flour substitute.
for the sugar coating :
3/4 cup granulated sugar
2 1/2 teaspoons ground cinnamon
1/4 cup (1/2 stick) unsalted, melted butter
also needed:
muffin tray
muffin cup liners
electric mixer
DIRECTIONS
1.)
Preheat over to 350. Place muffin cup liners in tray. Make batter by mixing in medium bowl, flour, baking powder, baking soda, salt, nutmeg, and allspice. In smaller bowl whisk together buttermilk and pumpkin puree. In larger bowl, using electric mixer, beat butter and brown sugar until light and fluffy. Beat in one egg at a time scraping down mixture in bowl as needed. With mixer on low, add flour mixture in three additions, alternating with 2 additions of pumpkin mixture. Beat to combine.
2.) Spoon 1/3 batter into each muffin cup and bake till golden brown, approx. 30 minutes. For sugar coating mixture, combine granulated sugar and cinnamon. Let muffins cool for 10 minutes on wire rack. Working one at a time take melted butter and brush tops of muffins and roll or toss muffin into sugar mixture. Then let cool completely on wire rack. Store in airtight container up to a day, freeze muffins up to 3 months.