Today was just one of those days that make me smile. For the first time in weeks, I feel relaxed and thankful and awesome, thanks to some of the amazing people I'm lucky enough to have in my life.
First of all,
Nova
and I are planning a pretty bad-ass guest post situation for tomorrow. Be ready.
Second, I went to therapy today to totally unload my brain of all the stress that's been building up these last few weeks. I literally rambled for a straight hour about "Hoarders" and "Intervention," my fear of losing my job, some minor family issues, and of course, moving stress. My therapist banned me from perusing Craigslist rentals until Monday, and as soon as she said it I felt a huge weight lifted off. Funny how I respond so well to authority.
After therapy Rob and I drove to Auburn to drop off some of our unwanted furniture with Safe Voices, a local domestic violence shelter and advocacy group. It felt good knowing that the stuff we don't want will potentially help a woman (or man) in a tough spot get back on their feet again and set up a new place to live. I didn't even know that donating to a domestic violence group was an option, but I'm glad to know now.
I took Rob out to a restaurant in Lewiston called She Doesn't Like Guthries, which is a weird little artsy hipster oasis in the mill town aesthetic that dominates in Lewiston. I had a yummy fiesta bowl (kind of like a burrito bowl at Chipotle) and a smoothie, and Rob had a delicious burrito. Expensive but totally worth it to have a little lunch date with my husband.
When I got home and checked the mail I found that I had a package from the AMAZING
Deanna
. As I opened it Rob said, "I think this girl has a crush on you." AND HE'S RIGHT.
First of all, she decorated the package with awesome stickers and semi-threatening messages. Do that and you have my heart forever.
I also got two adorable necklaces from F21, and a valentine from the
very
famous Gage of
Gage Says
, and as we all know, he doesn't just give out valentines to
anyone
. So, you know, be jealous.
The piece de resistance, though, was the note I got from Deanna, in which she promised me that the note had been "smothered in her breasts." Best friends? Check. Online girlfriends? Check.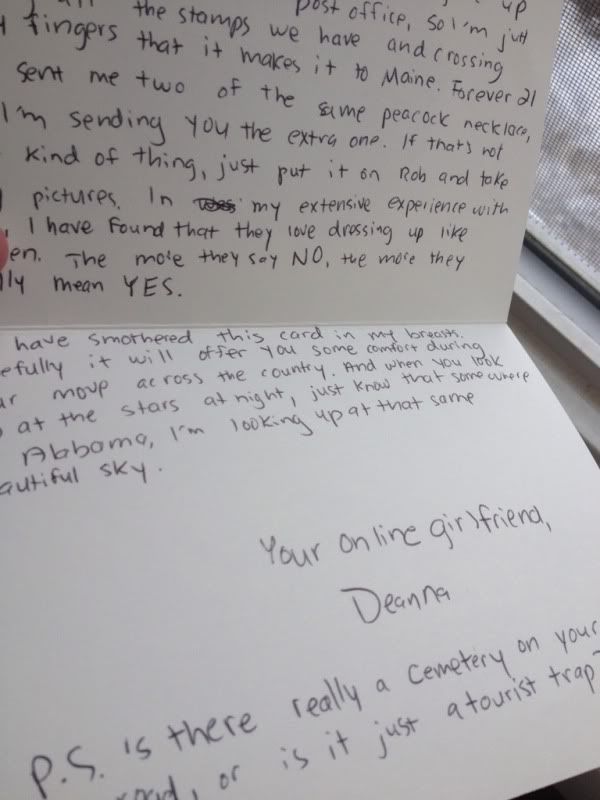 This is why I love friends, both online and in real life. Deanna, you are amazing.
Later tonight our awesome landlords are taking us out for a farewell dinner. I'm sure after that we'll snuggle on the couch (Rob and I, not our landlords), watch the Thursday night NBC lineup, and maybe even have a few drinks.
Plus this weekend we're having a going away party with our parents! A wonderful ending to the week.
How has your day been?