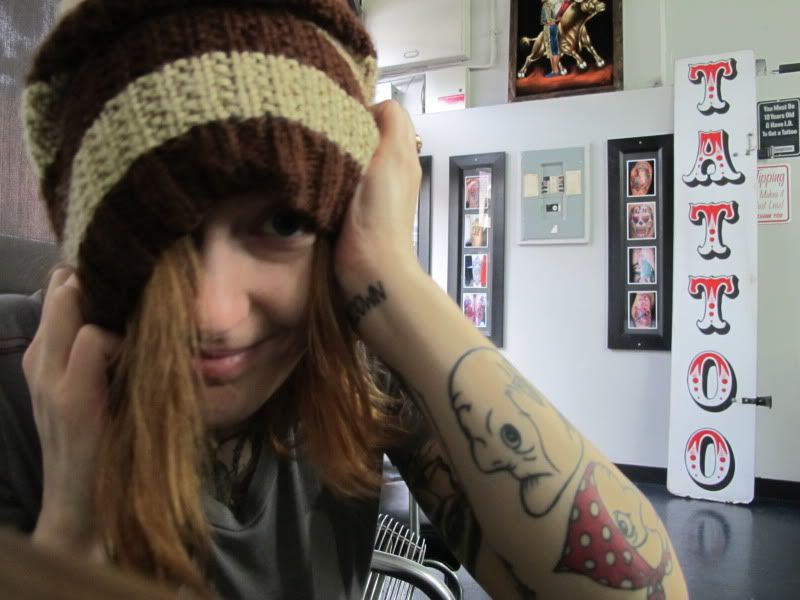 First of all, thank you Caitlin for allowing me to post my rant on your blog. People like the young woman I'm about to talk about cause my blood to boil. And it really does take a lot to get under ol' Nova Rella's skin like this.
Lisa Khoury wrote a purposefully inflammatory article in her university newspaper's opinion section about the lack of sophistication and morality tattooed young women have. She's getting quite a bit of undue attention, and so both Caitlin and I felt the need to put our two cents out there in the internet world with our own views on the issues she brings up.
I see that since I first read the article, they've posted a 'counterpoint' article, written by a young lady with two tattoos. She's cute and she means well, but she hasn't quite hit the nail on the head with the problems in the original piece.
Before you read my response, please click
HERE
and read her article "Why Put a Bumper Sticker on a Ferrari" in its entirety or you won't have any idea what I'm talking about. Yeah, you can tell by her title it's a real page-turner. Anyway, here is my response:
---
Dear Lisa,
Congratulations on becoming internet famous in a matter of days! It must feel amazing to denigrate an entire population of people different than you for your own benefit. You've already received so much undue attention for this article that I almost hesitate in writing this response, but I realize that there are people out there who will take anything printed in any newspaper as the truth, and I am not having that.
The opinions you've put out there for the whole world to read are the same mindless banal remarks I hear all the time. You've memorized them by rote. You sound like you're reading off a script. How will a tattooed woman ever catch a husband? Why would they do that to themselves? They used to look so pretty. How will they ever get a job? Are they a slut or a rebel? They must be dumb. Guess what Lisa, we've heard it all before.
What you've written is not new or compelling. You've basically just said the exact stereotypical crap that I, as a fairly heavily tattooed woman, have to deal with from lowbrow classless assholes on a day-to-day basis. In your article I hear echoes of the uneducated, the judgemental, and the closed-minded. What I don't hear is a single original idea.
Tattoos are not new, rebellious or "vandalism" of the body. Period. They are an expression of one's inner self and of one's societal status, and have always been. I'm sure you didn't bother to do any research on the historical front, so let me tell you for a fact that human beings have always tattooed themselves all over the world for many different reasons, mainly spiritual and societal, and they always will. It's part of our very being, as humans are by nature categorists and compartmentalists.
The fact that you refer to your body as 'a temple' and being 'blessed' gives me an insight as to where your opinions may be stemming from. Not to get too religiously controversial on somebody else's blog, but the oppression of this innately human desire to decorate and change one's body probably, at least partially, comes from our weird colonized pseudo-christian culture. Fortunately this mentality is gradually fading away and becoming outdated in many facets of our society. Unfortunately people like you are still living with your head in the 19th century clouds and refuse to acknowledge the winds of change.
And since we are on the topic of outdated ideals, Lisa, I have to ask why you don't tear into men who have tattoos with all the voracity you used against women. Don't they deserve the same public scrutiny? Shouldn't they be running to the mall and getting their hair done too? There's a definite sexist undercurrent running through this article and I can't understand how a modern day aspiring journalist such as yourself is even suggesting that we subscribe to such a thing. It is unfair and nonsensical to drag tattooed people through the mud to prove your antiquated moral code.
I see that you mention 'class' and 'elegance' repeatedly in your article. How do you define class and elegance, Lisa? By slagging other people's physical appearance? By working out a lot and having "a nice body"? Shopping a lot at the mall? You think these things give you more 'class' than someone like me? I wouldn't give a person as superficial and judgemental as you the time of day.
By the way, what is with all this yoga and working out and shopping nonsense? Keep your capitalist misogynistic worldviews to yourself please. I am not and have never been interested in wearing heels, they destroy your feet. Long painted nails are impractical. I hate going to the mall. I'm not overly concerned with making "guys drool" over me or holding 'serious power' over other people because of my beauty. I value my brain and my creativity miles above others' opinions of my sex appeal. I feel like those who seek others' approval, and modify their habits and physical appearance to please others are missing something essential: self esteem.
You blatantly proclaim that "Nothing comes out of getting a tattoo." How can you say that? To imply that getting tattoos has no meaning, when clearly you have none yourself and thus have no evidence to the contrary, is straight-up ridiculous. Just because you don't understand something doesn't make it invalid. Do you also consider yourself above people of other cultures? People who chose a different profession than you did? How do you feel about other religions? Do you not consider that there are people of every kind on this earth and there is room for all of us?
You say "Instead of getting a tattoo, a more productive use of your time would be improving and appreciating the body you have been given," to which I reply "Why does the body need to be improved?" or conversely, "What makes you think tattooing a body isn't improving it?" I am seeing several references to going to the gym, working out, getting a 'hot body'... why do you consider that to be the polar opposite of getting tattoos? I can't wrap my brain around your logic.
On a personal note, I am extremely offended that you took so much time out of your life to write such an insulting article about something you know nothing about. There is nothing about my own tattoos that says "I am trying to prove something to other people." I do not relish being judged by my appearance at all. I never have. I get tattoos because being a tattooed woman is who I am. I've always known it, as cheesy as that may sound. It is me, and I can not change that. I love it and tattoos are a large part of my life. Hairstyles? Not so much.
And how dare you bring children's morals into this article? Who the hell are you to even imply that a tattooed parent or grandparent isn't as good as one without any tattoos? This drivel is absolutely offensive for so many reasons. I fear for your children's morality a thousand times more than my own. "God knows" that you have no fucking idea what you are talking about. I'd love to know what makes you, a student in her early 20's, think you have the right to morally judge people in their major life decisions at all. What do you know about life?
So, Lisa, in conclusion, It's none of your business how intelligent, happy, educated, classy, attractive or well-off I am, but I'm going to let you in on a secret, Lisa. I'm probably more of all these things than you are. And I know for a fact I'm a better writer.
The world you are living in is a shallow superficial nightmare, and I genuinely feel sorry for you and hope you grow out of this stage quickly. I promise you, you will be ashamed of this article when you grow up because it shows a real lack of empathy, kindness, positivity and the depth of spirit a human being needs to have genuine relationships and a happy existence.
Hope we never hear from you again,
Nova.
---
You can click
here
to see Caitlin's response to Lisa's article on my blog.
I'd like to encourage more of you tattooed ladies to post your own response on your own blogs as well and leave us a link here in the comments section. You can also email it to Lisa herself:
lisa.khoury@ubspectrum.com