Yes, ladies and gents, we finally have internet. And after 3 years of slow Maine internet, this is
city
internet. It's
fast
. No more pixelated Netflix, no more day-long downloads. We are legit. I've really missed blogging and sharing this whole process with you. I'm so sick of using my iPhone for internet, you have no idea.
Anyway let me bring you up to speed! Be warned that this will probably be a long 'un.
The trip was pretty uneventful all in all. I'll sum it up with a few points:
1. My sister Megan totally kept me sane for the entire trip. Don't know what I would've done without her.
2. Amie kept Rob company, which was good because driving the Jeep + trailer turned out to be pretty damn stressful.
3. No offense to those of you who live in Oklahoma, but I don't really like Oklahoma.
4. Same to you, Missouri.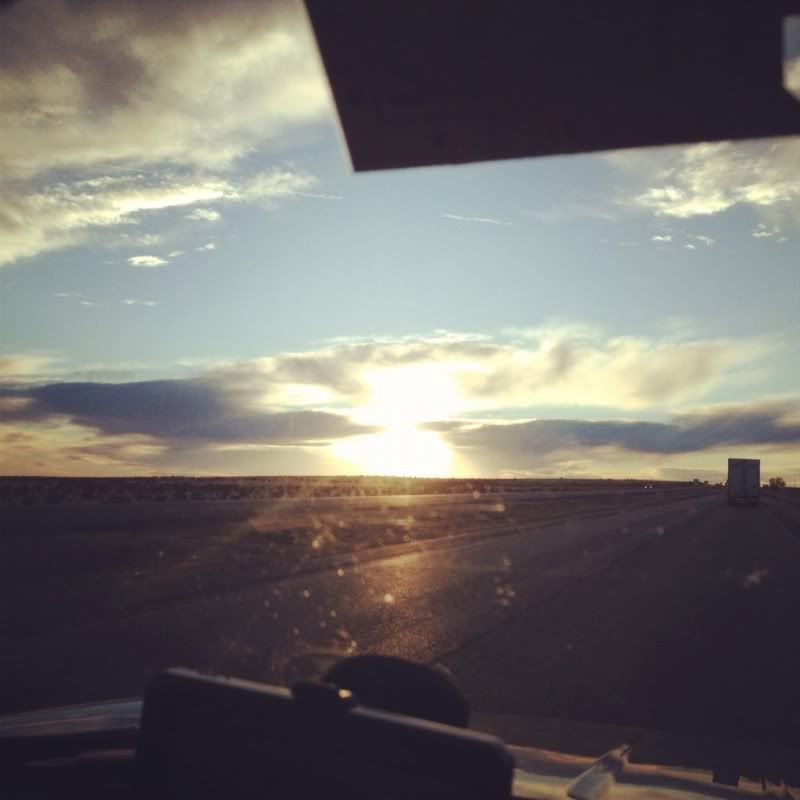 We rolled into Santa Fe in the evening of February 21. We were all exhausted but it was pretty awesome to get "home." I had a mini-meltdown when I realized the sink was really small (yes, this happened) but Rob seemed excited. The only issue we've had is that our shower makes a really high-pitched noise when on the hot water, but our landlords are hopefully getting this fixed soon. In the meantime we affectionately refer to the voice as our shower witch.
On Wednesday we began the unpacking process, visited Target four times, and took the dog for few walks around our new home. This was also the day that my iPhone took a bath and my hand got a load of cactus spines in it (more on that later). Additionally, our Comcast self-install kit didn't work and we found out we'd have to wait until Sunday (yesterday) to get internet. I had a few freak-out moments because I hate moving and all the stress that comes with it, but Megan, Amie and Robbie (and Cypress, a little bit) did a great job of calming me down and redirecting my energy. I'm very lucky to have so many people around me that understand the direction in which my thought process typically goes.
Thursday came much too quickly and I had to say goodbye to my sister and Amie, and let's face it, goodbyes suck. Even though I will probably see Megan soon-ish, the mere fact that I'm 3600 miles away just feels weird.
Friday and Saturday were spent unpacking and organizing. It's been a challenge to effectively use the space we have, to say the least, but I think we found a nice balance. Our new home is very "us" and very homey. I have a video tour of it all unpacked,
which you can see here
!
On Friday I noticed that I still had a cactus spine embedded in my finger and that it was beginning to become infected. I sort of ignored it until yesterday, when my finger became pretty swollen and the pain was intense enough to wake me out of a sound sleep.
At around 6:30am, I went to the ER which was an experience in and of itself. After three penetrating needle jabs in the base of my knuckle to numb my finger the doctor told me that I should just take antibiotics and see if the infection dies down on its own. Side note: I think it's funny when people tell me that needles shouldn't scare me because I have tattoos. Anyone who has tattoos know that the burning sensation tattoos cause does not equal the penetrating evil of medical needles.
Anyway my finger is still swollen and achy, and now sadly bruised because of the needles. I'm hoping the antibiotics work quickly.
Did you enjoy those pictures of my fingers? Hopefully I didn't gross anyone out too much.
So far, we really like Santa Fe. I think Rob is still getting used to living in a city and somewhere other than Maine, but all in all we're having a great time together. I'm so happy that we decided to come early so we could spend March getting to know each other before Robbie starts work. I sure am going to miss him when he's out on fires.
One of our favorite things so far has been the views. The view from our patio alone is absolutely stunning.
You know, despite having written this post in my head a few times, I'm still shocked with how incoherent it turned out. I hope you enjoyed looking at pretty pictures, anyway. I have some more from my camera (which has been resuscitated, thankfully) that I will share at a later time.
For now I'm going to get caught up on your blogs!