So I was walking along today when I got the idea to craft a series of posts on where Rob and I come from. Most of the bloggers whose blogs I read come from urban areas or at least suburban areas, so I thought that it might be interesting to show how the rural half lives.
Rob and I are both from a sparsely-populated county in Maine that abuts New Brunswick. So you can see where this sits geographically, here's a map I found on Google images with our general area highlighted: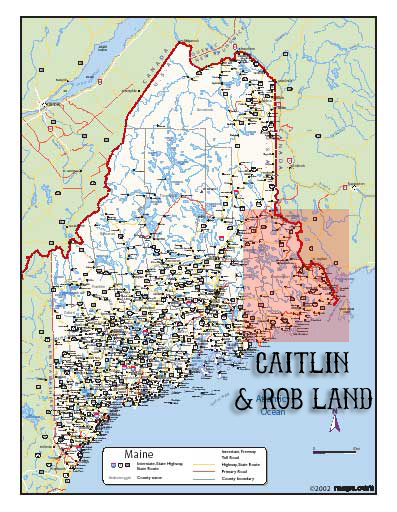 Our county has a population of around 30,000 and covers about 3200 square miles. There are a lot of issues primarily relating to poverty in Washington County (specifically prescription drug abuse and low life expectancies), but it's a beautiful place with kind people, and I'm proud to have grown up there.
The town I grew up in has a population of 140.* My house sits at the end of a four-mile dirt road and was originally a hunting camp. It also sat right in front of a small lake, one of the cleanest lakes in the state. We were 40 minutes away from school, 30 minutes from the nearest grocery store, and 25 from the nearest gas station. The only chain store we have is a Walmart. The nearest mall was a 90-mile drive one-way, in a town with a population of around 30,000. Our town had an unfinished grange hall, like most New England towns, but most of the town business (car registrations and the like) is conducted in the homes of the town clerks. Below are pictures of a view of the lake, the road my house is on, and the house I grew up in.

Rob grew up in a larger town (population around 600) that sits on a harbor. Most towns in Maine are widely dispersed, so despite being in a larger town, Rob was still 20 minutes from school and 30 minutes from the nearest grocery store. And though we went to the same high school, it took us about an hour to drive to each other's home. Here is the view from Robbie's parents' house:
When Rob got out of the Army, he decided to go to a school in Western Maine. We live in a town now of 3000 people with real restaurants, a grocery store within a 10 minute drive, and access to Maine's biggest city (a booming metropolis of 64,000 people).
Neither Rob nor I are particularly fond of highly urban areas; despite the proximity to events, shopping, and tons of people, we both feel even more isolated in cities than when we are at home. When I studied abroad in Moscow in my junior year of college, I was amazed at how isolated and lonely I could feel in a city of 12 million people. I love that our town office is a tiny house that is closed on Wednesdays. I love that I run into people I know in the grocery store or gym on a regular basis. I love that we can take our dog on the trail behind the house and not have to keep her on a leash or clean up after her (yay for pooping in bushes!). I love that we can fall asleep to the sound of the river next to our house.
So, you guys can all come get away from the city and stay with us if I can come visit you, deal?
*Funny story: when I was in Russia someone was asking me about my hometown. I said, "My town has 140 people." The person responded, "...thousand?" Still makes me laugh.