I won't blame you if you want to laugh at how close this name is to "Thumb Butt." Believe me, it's been making me giggle all week.
My typical modus operandi when I'm on a project is to hide in my room and feel sorry for myself. My goal with this project is to get out and challenge myself to try new things. On a tip from some clients I decided to check out a nearby Forest Service trail up to and around Thumb Butte, which looks like this:
Pretty, right? The trail was pretty simple though I wasn't used to the elevation and got pretty out of breath. I wasn't hiking with my husband, so I was perfectly fine sauntering along at a slow pace.

On the trail I started to have a bit of an anxiety attack about getting jump-attacked by a giant tarantula, which I assume happens to Arizona residents at least once every week or so. I was walking ridiculously slow and surveying my surroundings carefully when I came across THIS: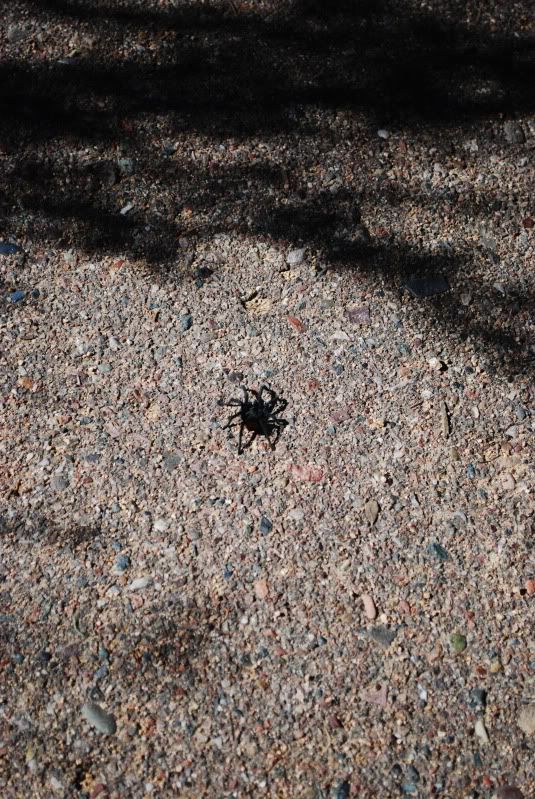 Needless to say there was much hyperventilating and yes, a little bit of crying. I managed to sort of hop-run past this little sonofabitch and made it up the trail relatively unscathed by scary tarantulas and cacti. Anyway it was a lovely, simple hike with beautiful views. And it was a small victory, but it was a victory nonetheless. I was proud of myself for getting out and doing something all by my lonesome. I still miss my Robbie though.

Here are some pictures for your enjoyment:

I will make sure to post some pictures from my trip to the Grand Canyon as well.
How is your week going, lovely people?