First off, hi, everyone!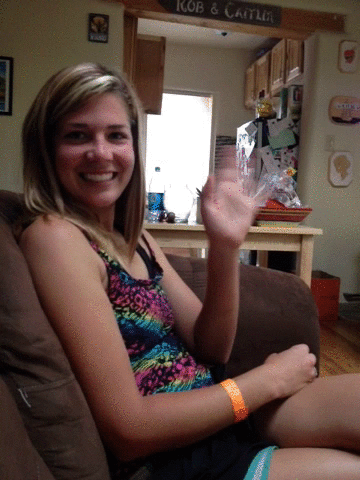 This is Natalie, isn't she pretty?!
If you can't tell, I just discovered the iPhone app Cinemagram, which lets you make fun animated photos like the above. Because the novelty has not worn off, here's another one I made of Cypress (pardon the crap quality):
SO MUCH WAVING.
Anyway, once you've finished staring at those for hours since they are positively hypnotic, let's get on to the post and other thoughts.
A week or so ago I read
Nova's post about time passing too quickly
and started thinking about how much I take for granted on a daily basis. I've written about my difficulty with "living in the moment" ad nauseum on this blog, but it's something that is a constant struggle for me so I don't feel lame writing about it even more.
Within the last week or so I realized how quickly this summer has seemed to pass. Because Rob has been gone so frequently I have spent most of my time wishing away the weeks until he's home again, and as a result of that the summer seems to have completely slipped through my fingers. When he was home for this last "weekend" I decided to make more of a concerted effort to enjoy each second and minute for its own sake, and now that he's in Idaho for a million years 3 weeks I'm trying to do the same thing despite his absence. It's tough, however, for alone time to compete with sitting on the patio with Robbie listening to music and watching the sun set.

In her post Nova suggested that carrying her camera helps keep her more "down to earth" and I decided to use my semi-latent camera skills to capture some moments here and there. I know in the last few months I've relied on iPhone photos for my blog posts for the sake of ease, so it felt pretty good to take my time and actually enjoy photography again. I've also been wanting to share a little bit of Santa Fe with you so why not kill two birds with one stone, am I right?

The following photos were taken on a date to the Coyote Cantina, our number one favorite place to eat and favorite lunch date location.