I know most of you aren't fire wives, but I thought I'd share with you this list of things I've learned over the last 3 months anyway. This is written all from my viewpoint as a fire wife, though of course this could apply to fire husbands, girlfriends, boyfriends, partners, fiancés, family members, what have you.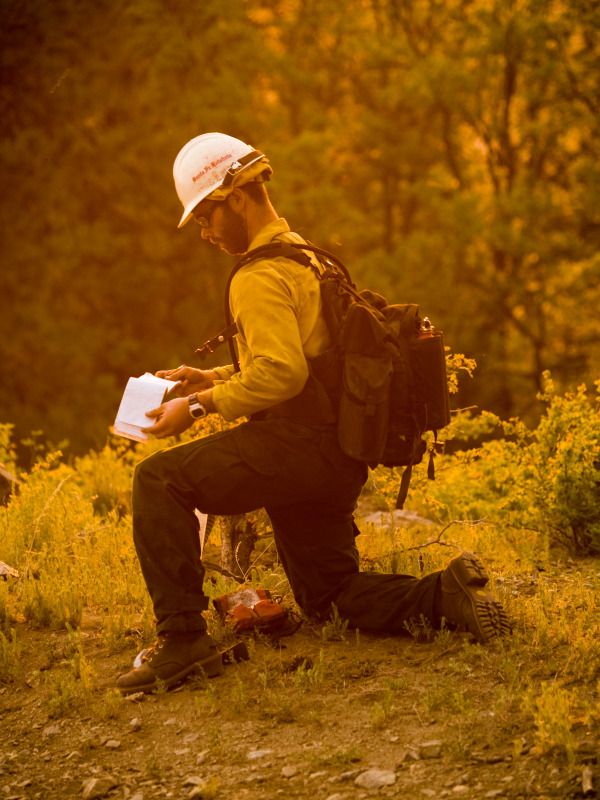 Isn't my husband handsome? These photos are from here.
1.
Wildland Firefighters make a lot of money in overtime when they're on a fire roll.
Don't worry about memorizing this, because your husband will repeat it every single goddamn time you say "I miss you" or "I hope you don't get called out again."
2.
Information is your best friend...sometimes
. There are a million websites that let you track the fire your husband is on. While this means that you can stay informed and knowledgeable (and predict where they'll go next) it can also become a nasty compulsive habit that drives you slowly down a spiral of insanity.
3.
Once a fire is marked at 30% containment, it's pretty much over...except when it isn't.
When you find yourself in the aforementioned spiral of insanity, you may spend a lot of time
here
, where you can monitor the level of containment of the fire. To avoid misleading anyone or jumping the gun on declaring the fire contained, they'll wait a long time--almost until the fire is completely contained and ready for mop-up--before they'll mark it up to even 30%. But there are times when they do jump the gun, and the fire responds by jumping containment lines, eating up thousands more acres and sometimes, more tragically, homes, and keeping your husband gone for another week.
4.
Your husband can only be out for 14 days. Except when they can be out for 21. And except when they just R&R where they are for two days and stay for another 14 days.
Basically you never know until it happens. We've been lucky that Rob's crew generally doesn't do either of the two latter things, but the possibility is always out there.
5.
A 14-day roll sucks, but it's the only way they're guaranteed to have time off
. Kind of a double-edged
sword thing. When they're gone for 14 straight days it's pretty lonely and feels like a month, but you also don't get your hopes up about them coming home, and they're required to have at least 2 mandatory days off afterward.
6.
"We're on our way home" from a fire means at least 2 days of driving and a hotel stay, whether they are hours or whole states away
. Firefighters obviously are still getting paid on the drive home. Also, once they get home they're entitled to their days off right away, so they generally prefer to come back to the base in Santa Fe in the morning and then work the entire day to prepare for the next fire. Both of these things mean that they will milk the shit out of that ride home. On Rob's last fire, though they apparently had plenty of time to get
to
the fire within a single evening, they took a day and a half getting back and stopped at a hotel 2 1/2 hours from here.
7.
Never rely on traditional news sites for fire information.
News sites are looking for one thing and it's clicks, and they're a lot more likely to sensationalize the fire and make it sound a million times worse/uncontrolled than it actually is. They also tend to interview homeowners, who are at risk of losing their homes and are (quite understandably) terrified even if the fire danger has abated. The first time I read a news story, they greatly exaggerated the danger in which the firefighters were and I couldn't sleep well for a few days until Rob called and told me all was well.
8.
If you have family and friends in an area that isn't accustomed to wildfires (like Maine), they will ask about them frequently
. This is sort of related to #7. Since your family members are reading the apocalyptic news articles, they will be understandably concerned about your safety and the safety of your firefighting husband. I usually direct our family members to more measured websites rather than the news. This doesn't annoy me or anything, it's just a trend I've noticed.
9.
If your husband is still a temporary (seasonal) firefighter neither he, you, nor any children you have are eligible for health insurance
. Like, no options whatsoever. We're really lucky (I use that term loosely) that Rob still has health care through the VA due to his Purple Heart and I have coverage through my job; many other temporary firefighters and their spouses live with worry that they'll get sick or pregnant and then be stuck with the massive hospital bill. It's totally unconscionable to me that this is the case, since these men and women put their lives on the line all summer just like the permanent employees. If you agree, please consider signing
this petition asking President Obama to give seasonal firefighters some option for health insurance
.
Have a great week everyone!